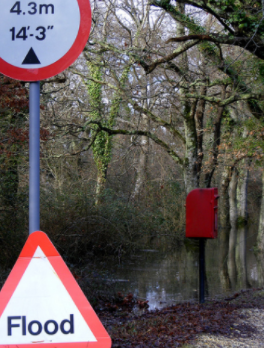 Z-Wave Life Hack: How to Prevent a Flood Before It's Too Late
For those who have seen flood-damage right before their very eyes, incidents like these have left countless homes devastated. In 2013 the Alberta flood had about $5 billion worth of damage, making it the worst flood to hit this region. One Calgary resident decided that he would turn to high-end home automated technology for his home and integrated water monitoring devices that would help him prevent from these types of catastrophic events. Although we cannot prevent the natural disaster that occurs, with the advantage of the smart home technology we can always be one step ahead.
Whether you just bought your first home, or have been a long-time homeowner, floods are no joke. This is why we cannot rely on our neighbors to give us a call if flood incidents happen when we are away from home. To prepare us for such incidents, we must make sure the water stays away from our floors, walls, and ceilings.
Z-Wave has created a fully equipped kit that has advanced capabilities to prevent a costly leakage which includes the VeraEdge Home Automation controller, a Fibaro Z-Wave Flood Sensor, Aeon Labs Aeotec Z-Wave Range Extender/Repeater and Leak Gopher Z-Wave Water Valve Control.
The VeraEdge Controller is the only controller you will need since it will be able to control door locks, thermostat, alarm dimmers, your camera and essentially everything else! With an extended Wi-Fi range, the homeowner can link up to 220 devices. The Fibaro Z-Wave Flood Sensor rests on three gold plated probes which sense when water is present and because all probes are telescopic they can rest on uneven surfaces yet still be touching the ground. The best part about it is designed for a larger home security purpose because it includes a row of terminals that can be wired up to a security camera, a siren or even an external power supply. To ensure the Z-Wave signals are always working properly the Aeon Labs Aeotec Z-Wave Extender/Repeater ensure that commands are always being passed along. Lastly, the Leak Gopher Z-Wave Water Valve Control will be the appliance that enables a security alarm and is Z-wave integrated with the water sensor to turn off the water when a leak is detected.
This is all you need to be best prepared to monitor your pipes and water leakage away from home and through your mobile device. Don't wait till it happens! Make sure to avoid a costly utility bill and prevent all problems!
All the best,
Z-Wave Outlet Team