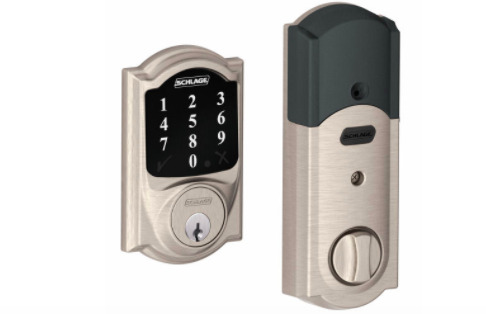 Secure your home with smart touchscreen deadbolt locks. 
As the smart home arena continues to evolve, one device that consumers deem to be a necessity when building their home automated system is a great functioning smart lock. With the many smart locks out in the market, they all vary in design, technology and simply serve different smart home needs. The Schlage Connect Camelot Touchscreen Deadbolt can be integrated with your Z-Wave Hub as well as Amazon Alexa, giving homeowners the option to use voice recognition to keep a lookout on the status of your front door. Here are some things to keep in mind when considering to expand your home automated system with the great Schlage Connect Camelot Touchscreen Deadbolt:
Unique Features
Schlage Connect offers homebuyers many great features such as a slim exterior, fingerprint-resistant touchscreen, and a one-touch lock for greater usability. It is specially designed with a matte finish that prevents any smudging from fingerprints, giving it a sleek and clean look no matter what. Homeowners will also receive an audible alert any time there is movement detected through the smart technology that is equipped with the lock, to truly keep your home secure from anyone who shows up to your home uninvited. Choose from three different alerts that will notify you in a timely manner: activity, tamper or forced entry, satisfying all home security needs.
Unlock Your Door Through Your Phone
At first, one may feel skeptical on exactly how reliable this method may be. However many
 homeowners will find that unlocking their front door through their iPhone or Android device instead of a physical key is actually very efficient and helps them be that much more self-sufficient. It gets even better when you ask Siri, "Open the door," making it that effortless, quick and convenient!
Schedule Customized Codes For Friends and Family
Never worry about leaving a spare key for the nanny again. The fantastic thing about setting up Schlage Connect is that you as a homeowner can give a designated access code to specific each person you allow into your home. From miles away, if the dog sitter wants to check on the dogs and make sure they are fed daily you can set up a code for he/she to enter with and you have control of how long and when this code will be used. That's our favorite part, you have total control of how you want to approach your smart locks privacy and functionality.
A Smart Deadbolt
Interestingly enough, your Schlage Connect Camelot Touchscreen Deadbolt can act as the brain and central hub for all your home automated needs. When connected through the Z-Wave wireless network, homeowners can purchase the Nexia Bridge, which costs about $59.99 then $9.99 a month to continue to use the Nexia app. Once you have this setup, you are free to create a domino effect between the Nexia app, by controlling your lock, lights, thermostat and any other products you may have purchased.