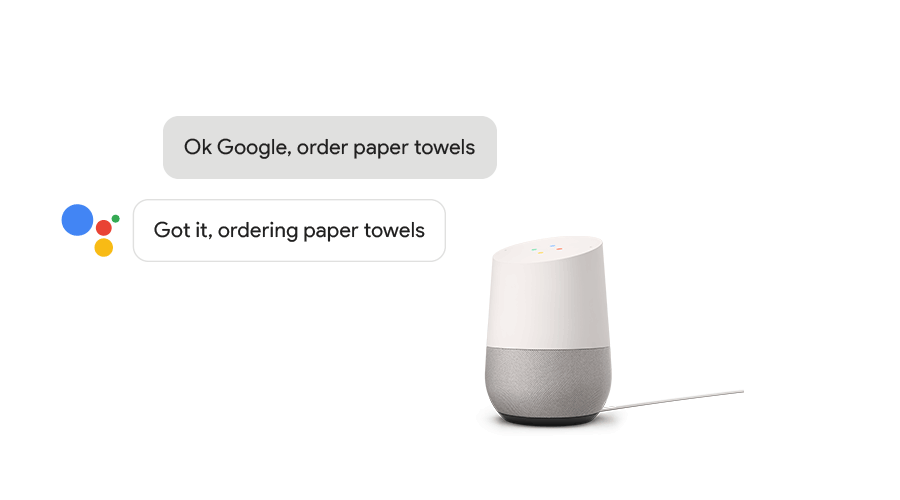 Even if you aren't a tech nerd or into the latest smart home technology, you've still probably heard of Google Home. It's Google's foray into the world of smart speakers. The search giant is looking to remain a tough competitor in the smart assistant market where currently Amazon Alexa has a slight lead position.
What is Google Home?
Google Home speaker was released in November 2016. It's similar to Amazon Echo, costs about $129 and works as the hub controller for multiple smart home devices. You can purchase Google Home from the Google Store directly or other online retailers.
Adding a digital assistant like Google Home to your life may not seem like a typical millennial minimalist move. But consider for a second how consolidating menial daily tasks into one simple device can increase free time. Start simple, choose the best Z-Wave products that you think will help your life and quickly integrate them with Google Home. You'll instantly see benefits of increased productivity and efficiency and will soon be a home automation pro!
Setup of a Google Home device is simple and can be controlled by smartphone or using voice command. Recently, Google re-acquired smart home automation brand, Nest. The goal is to reignite growth for the Google Home accessories category. Giving smart home adopters additional product options. Expect an increase of Nest compatible devices for Google Home to include thermostats, cameras, security systems.
Easy Commands for Google Home
Need to order more organic kale? Set up your grocery list with Google Home and you'll be one step closer to your next veggie smoothie. Daily tasks like controlling lights, setting alarms, calling Ubers and playing music all became easier. Google Home also works perfectly with YouTube, Netflix, Spotify and Pandora. So the answer to, "What is Google Home?" it's a lot of things, within the internet of things.
Beginner voice commands to know before you start:
You can start by saying "Hey, Google" or "OK, Google".

To ask for help, say "OK, Google, help."

For volume control, you can use: "OK, Google, turn it up.", "OK, Google, Louder." Or "OK, Google, Turn it to 11." (11 is the max scale in Google volume).

You stop your players with "Pause", "Be quiet" or "OK, Google, Stop".
You can also join multiple commands together like "OK Google, play Vivaldi's Four Seasons Spring and turn the volume to 7." You can use it for search, shopping, media, web browsing, travel booking, smart home device control and more.
Z-Wave Smart Home Products to Use Google Home
Smart Light Bulbs: Besides turning light bulbs on and off, you can control intensity and colors for the compatible ones.
Smart Thermostats: No need to get out of bed on a cold night. You can issue a voice command from your bed.
Smart Locks: Lock your door remotely.
Smart TVs: A lot of smart TVs are compatible.
Smart Plugs: Save money on power using these devices.
Chromecast: You can stream Netflix, Spotify, Google Play Music and more.
The internet and its tech savvy bloggers have spoken and the Google Home response has been overwhelmingly positive. Wired provides a more granular article about features of Google Home and gives a seven out of ten stars. While CNET has given it a four out of five stars.