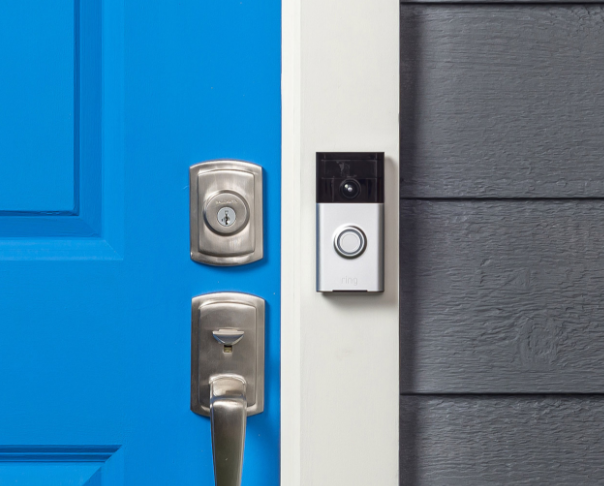 DoorBird vs. Ring: Which Doorbell is best suited for your home?
They say home is where the heart is, but most homeowners aren't there to receive deliveries, see who drops by or to check for unwanted visitors. For those who value home safety as their #1 priority, we thought it would be worthwhile to compare two of the best working doorbells out there: DoorBird and Ring Doorbell.  When exploring some of the main differences and nuances like unique specifications and functional design, the question is, "Which one best suits your specific needs?" which will then essentially determine which one best meets your home security needs. When it comes to the basic functionality, the two are wonderfully durable and fully-equipped with one-of-a-kind features.
Ring: The Wi-fi Enabled Doorbell
Ring, formerly know as Doorbot, has earned its success by offering a Wifi enabled video doorbell with great features such as custom motion zones, infrared night vision and two-way talk with noise cancellation.  Ring stream's high-quality Crystal-clear 720HD video over your home Wifi to mobile devices, making it easy to keep your eye on anything that may come across your front door. Compatible with IOS and Android devices, homeowners are also given access to cloud video recording, so they can easily playback past videos whenever they choose for an effective monitoring and surveillance system. Depending on what is aesthetically pleasing for your home, the Ring comes in gray, yellow, black and gold.
Home Security At Your Fingertips
With this Wifi enabled doorbell, you are always home and can respond to any solicitors or suspicious people that show up to your home to truly keep your home safe.
To make Ring Doorbell even more secure, people are able to set up their safety parameters, by simply setting up a stick-up cam that operates off a built-in rechargeable battery to capture footage in all angles surrounding their home. Ring is sold for $199 and the Ring Pro runs for $249.
Ring Installation Package
Ring comes with a great package that includes everything one may need to set it up easily in their home. The package comes with the following items:
Ring Doorbell

Corner Kit

Mounting bracket and level

User's manual

Weather Sealed

Wood Screws

Drill bit

Masonry screws and anchors

Micro USB Charging Cable
What are some of the downfalls to ring?
Most people's wifi isn't the greatest so reception can be a dow. Although sometimes challenging hardwire IP devices just work better. We hear the occasional hickup were it just doesn't seem to work properly and many believe it has to do with the wifi signal. 
Don't expect to record to an on-site NVR. The Ring keeps you subscribed to a month service for cloud recording. This for some people is completely acceptable so you just need to be aware of your options. The other big thing the Ring doesn't do well with is that it lacks to integrate with the many partners on the market and we believe it won't ever integrate with the big boys Crestron, Savant, RTI, URC, and Control 4. But that's where DoorBird Comes in. 
Ring Compared to the German Made DoorBird Doorbell
DoorBird is also Wifi-operated but offers POE (Power Over Ethernet) or a hardwire networking enabled Doorbell that uses bank-level encryption technologies to alert homeowners when someone has arrived at their doorsteps. DoorBird also enables communication through video, and as soon as someone pushes their doorbell they can access the video. Similar to the Ring Doorbell, Doorbird also has motion sensors and night vision. Ring and DoorBird offer cloud storage but DoorBird also offers a connection to an NVR (Network Video Recorder). We have tested it with a Hikvision NVR and it works great. 
POE or network wire capable
NVR or Cloud Recording optional 
Different styles to choose from
Plays well with others
Control Contact Closure to unlock doors
DoorBird also plays very well with many connected home devices. Count it in when you are installing Homeseer, Vera, Savant, URC, Crestron, RTI, Control 4 and more. In home integrators or DIYers are really seeing the power of DoorBird when you connect it to the rest of your house.
The DoorBird is the same across the whole product line and the only difference is the exterior finish. We love how its offered in a higher end bronze finish. You can take a look at all of them here: DoorBird Collection
Both DoorBird and Ring Doorbell are relatively easy to set up, but Ring wins points with its option of not having to wire it and to instead charging an internal battery whenever it needs a battery boost. A DoorBird install does take a little more time but its more of a long-term solution as well.
Price Points
The Ring will run at about $200 where the DoorBird starts out at $350. It really  depends if you are going to take advantage of the DoorBirds extra features as well as appreciate its unique design. It really is up to you which doorbell best suits your needs and which is best suited 
to meet your home safety concerns. We like to say Ring is great for beginner users and if you choose to upgrade, then the DoorBird is a one time expense that may be worth your investment. We suggest you do look into either one, as it's definitely the future and why not prepare yourself with the right tools that will prevent a burglary before it happens