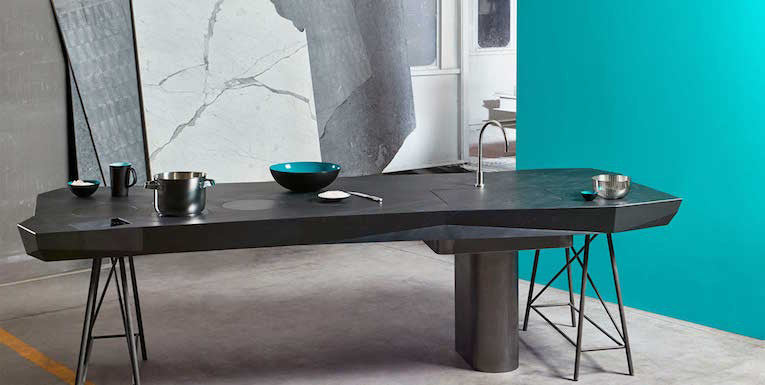 With motion sensing abilities taking the forefront in how we operate our homes, the possibilities with gesture control under our roofs are seemingly endless. But before you write off the inclusion of kitchen elements on that list, think again.   
Designed by Marmo Arredo and Tipic Studio, what is being call "the invisible sink" made its debut at the Italian Design Festival Salone del Mobile furniture show in Milan. The sink is part of an experimental kitchen project Offmat, which the designers consider a laboratory of sorts intended for the development of new home technologies.
The quartz composite product begins as a flat surface, then slowly descends into the counter. This entire process is gesture controlled, using motion sensors that activate the base to lower through use of a piston mechanism. Temperature and water flow are also able to be controlled via hand gestures. The idea behind the flat base design is to make the sink seem like part of the surface when not in use.
Several other features are included in the worktop space, where it also functions as a kitchen scale, with sensors built within that serve to weigh ingredients, and comes equipped with charging stations for your phone.
They have no plans as of current to put this product on the market, however Tipic suggests the design could be a glimpse of the future of kitchens that incorporate natural elements.
Tools that you could use to create this yourself: