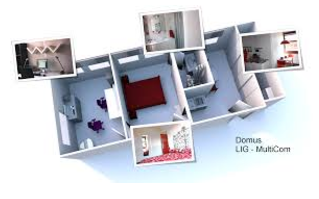 7 Ways To Use Smart Home Tech In An Apartment Rental
Many apartment renters seem to think there isn't much they can do to liven up their home, perhaps because of the small space they are working with or the fact that they have not yet looked into home automation. Home automation can smarten up your apartment rental for better security, convenience, and an overall more self-sufficient lifestyle. Here are 7 ways you can incorporate smart tech to your home so you can make it work for you:
Invest In A

Do-It-All Home Controller
The one thing you want to make sure to have is a smart hub controller that will control everything from your lighting, rice cooker to your thermostat. These are all different aspects you want to be able to remotely adjust when on the go and what better way to do it then connecting a Z-Wave integrated smart hub that will do exactly that.
It Starts With A Swipe
If you want something even more high-tech for your smart control system, you can arrange for everything to be controlled by simply making a gesture with your hand to let your smart home know exactly what you would like to adjust. You may be asking yourself exactly how this works? The Fibaro Z-Wave Plus Swipe Scene Controller uses a battery powered gesture control pad that detects what it is you want to adjust without actually touching a device. Just wave your hand, and the possibilities are endless!
Control Your Climate
Apartment renters can now utilize advanced technology that goes beyond the functions of a standard thermostat. The smart thermostat Nest 3rd Generation Learning Thermostat is smart in all the meaning of the word, by keeping the temperatures of your home at a comfortable level and keeping track of your temperature preferences by adjusting to meet those needs. The added feature of controlling the thermostat while away through your tablet or smartphone is an added perk that will also save you money when it comes time to pay your next utility bill!
Keep Track Of Your Space And Belongings
Sharing space with a roommate can feel as if you no longer have as much control of your personal belongings and valuables, but home automation has changed this forever. Your smart home helps you be the first to know if someone enters the door, opens personal drawers and cabinets, or anything that you would like to track around your territory. The Zipato Z-Wave Multi-Sensor Quad detects motion, monitors door or window open/closed status and can even notify you of any changes in temperature and light levels. This is perfect for using it with other Z-Wave devices in your network, to keep intruders from entering areas that are only meant for you!
Take Your Lighting To A New Level
For those of you who consistently forget to turn off your lights, this will not only make your life easier but it will also save you a significant amount of money. Home automated lighting provides people with the option of activating and deactivating their lighting remotely for an easy and convenient alternative to controlling energy usage. The great part about the GE Z-Wave Wireless Lighting Control 3-Way Dimmer Kit is that the switch connects to existing wiring and supports lighting loads up to 600W.
Pay Less for Monthly Utility Bills
Everything from the heating cooling to controlling how often lighting is being used around the house can help a renter avoid their monthly bill from skyrocketing. Home automation is all about monitoring your energy usage, and you definitely do not have to be a homeowner to be able to just that.
Prevent Problems Before It's Too Late
As a renter, we tend to rely on the assigned maintenance person in our apartment complex or the landlord to take care of issues that occur on a daily basis. With the Z-Wave network, you can avoid the lag time of them actually addressing these issues without causing major headaches! All it takes is a weekend away from home for things to hit the fan and have actual structural damage to your property such as leaky pipes, clogged drains or your basement being prone to flooding.