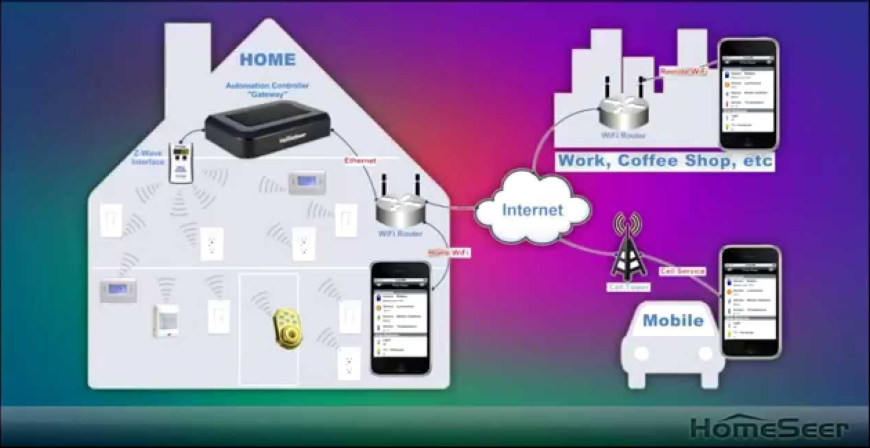 5 Reasons We Love HomeSeer
With warmer days coming and days getting longer, comes more BBQ's, summer birthday parties and simply more social gatherings to be hosted in your home. Knowing this, it may be good to start enhancing your home with some great home improvements such as considering using Z-Wave technology Home Automation, starting with the Z-Wave hub that is easy to install! With endless options to integrate with the Z-Wave hub, one of our favorites is the brand Homeseer and the different high-end products they offer! Control climate, telephones, security, appliances, lighting and even your home entertainment equipment! Here are 5 ways HomeSeer connected with your Z-Wave hub can enhance your home:
For Its Great Software
After 15 years of perfecting the right software, HomeSeer uses HS3 smart home automation software for a reliable, flexible, and robust option for your home automated needs. The software is available to be used with Windows PC, Mac or Linux computer and is also compatible with Android and Apple apps. The HS3 software allows for unlimited triggers, actions and conditions, Z-Wave plus certified, drag n' drop interface, and access to reminders, alerts, and announcements, among other fabulous features!
It's Private and Secure
Developers of HomeSeer HomeTrollers treat your personal data as if it was their own and understand how important it is to keep sensitive information away from hackers and anybody not given permission to get their hands on it. This means users personal information is never stored in the cloud, keeping hackers away from seeing any custom home automation schedules or private data that is only for your eyes only.
What Doesn't It Work With?
We can't really think of products and manufacturers that HomeSeer isn't compatible with. Since 1999 HomeSeer has made it their priority to keep their industry standard high, keeping up with all the evolving technology trends and partnering with the innovative industry leaders making it hard to find a product HomeSeer doesn't work with! Here are some of the compatible products listings!
Make It Your Own
The user interface is designed to be easy-to-use and user-friendly because of its menu is driven interface for a customizable platform. It is also web based and utilizes cascading style sheets (CSS) commands, making it even more maneuverable. You can also integrate custom software "plug-ins" through the NET development, which provides additional functionality in its hardware and software. If you are on the coding side, HomeSeer supports popular scripting such as JavaScript, VBScript, VB.NET, Perl, and Python. Similar to any website, the plugins help add features that cater to your home automation needs!
No Need for 24/7 Internet
Surprisingly enough, HS3 software can be relied on to continue to control automating your home even when the Wifi is down. Unexpected web service outage? HomeSeer has you covered! Yes, MyHs web service makes it simple to enable the process of controlling your home remotely but it is not absolutely necessary!