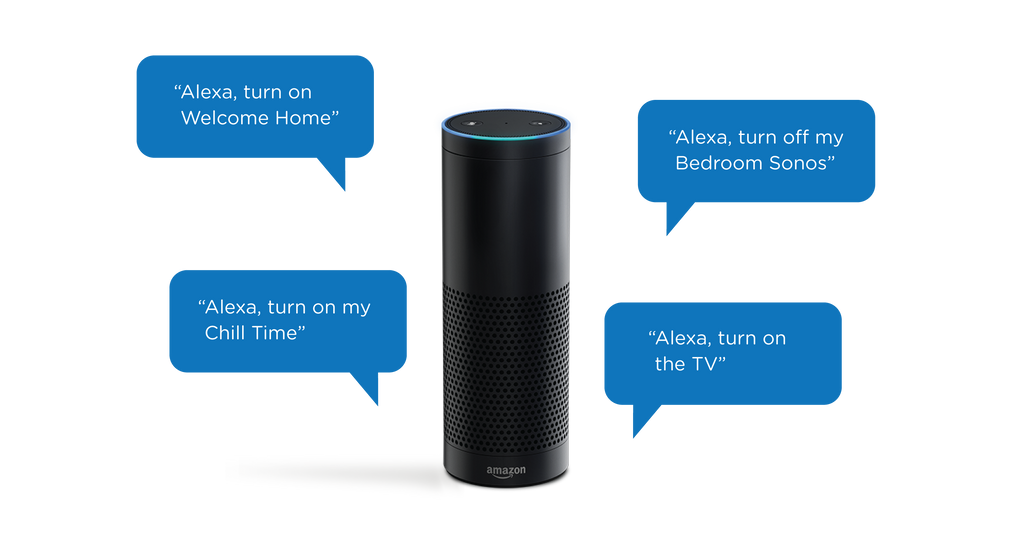 Amazon Alexa owners can now add voice control to their Z-Wave devices within their smart home network. The marriage of these two technologies is enabling smart homeowners to control lights, adjust thermostats, change music and unlock doors. Let's have a look at how Z-Wave and Alexa are cooperating to improve home automation.
How Do Z-Wave Products Network Together? The Z-Wave-compliant devices are unique
 because they use low-energy radio waves to communicate with each other and create mesh networks. Instead of only using direct connections between the central hub and the devices, the control signals hop from one device to another. This increases the area coverage of the network. You'll never have to worry about an unreachable bedroom, garage or basement. With strategic Z-wave device placement, your control signals will travel to every corner of your smart home.
Popular Z-Wave Devices You Can Control With Alexa. Here are the Z-Wave and Alexa compliant devices that can help make your home smarter:
1. Z-Wave Controllers and Hubs For Alexa
Z-Wave controller and hubs work as the headquarters of your smart home network. When you tell Alexa to dim lights or turn on music, the voice command send the request to the controller or hub which converts it into instructions for the connected devices. Here are two popular hubs that work with Alexa:
VeraPlus Hub:

VeraPlus was one of Digital Trends top 6 smart home hubs. It has a powerful controller with a fast system-on-a-chip processor, 128MB NAND flash memory, 256MB DDR3 memory, 4.0 Bluetooth, Gigabit Ethernet and USB 2.0 capability.

Samsung SmartThings Smart Home Hub:

Samsung has produced a hub that is also popular in the smart home automation market. It is easy-to-use. It integrates well with lots of devices. The hub can take commands from either Alexa or its own free and downloadable application.
2. Z-Wave Light Switches To Use With Alexa
Z-Wave light switches can give you total control over your home's ambiance. The Alexa-enabled light switch setup is easy to incorporate voice automation through your smart controller or hub. You'll be easily able connect switches and summon the voice control automation into your smart home.
3. Z-Wave Thermostats and Alexa Voice Automate Climate Control
No more getting out of bed in the middle of the night to adjust the temperature for your significant other. You can say, "Alexa turn up the temperature 5 degrees." Voice-controlled Z-Wave thermostats will make every home owner's life easier. With Z-Wave products and your Alexa device just tell the thermostat via voice command to change to the desired target temperature and continue with more important life decisions.
4. Z-Wave Smart Deadbolt Locks with Voice Control by Alexa
You can say things like, "Alexa lock the front door", if you have a smart lock linked with your Z-wave network or just about any connected smart lock. Even though smart locks might sound risky at first, it actually enhances your home security. These locks use the same level of encryption as online banking for added comfort and security. Adding voice-activation with Alexa into the mix makes smart Z-wave locks attractive options for home automation.
Moving Forward With Z-Wave and Alexa Voice Control
Automating your home can make your life easier. And the do-it-yourself (DIY) nature of Z-Wave and Alexa based applications make them cost-effective solutions for homeowners. Shop our wide selection of smart home products compatible with Amazon Alexa.