Ezlo PlugHub Energy Smart Plug and Z-Wave Automation Controller (2ND GEN)
Ezlo Innovation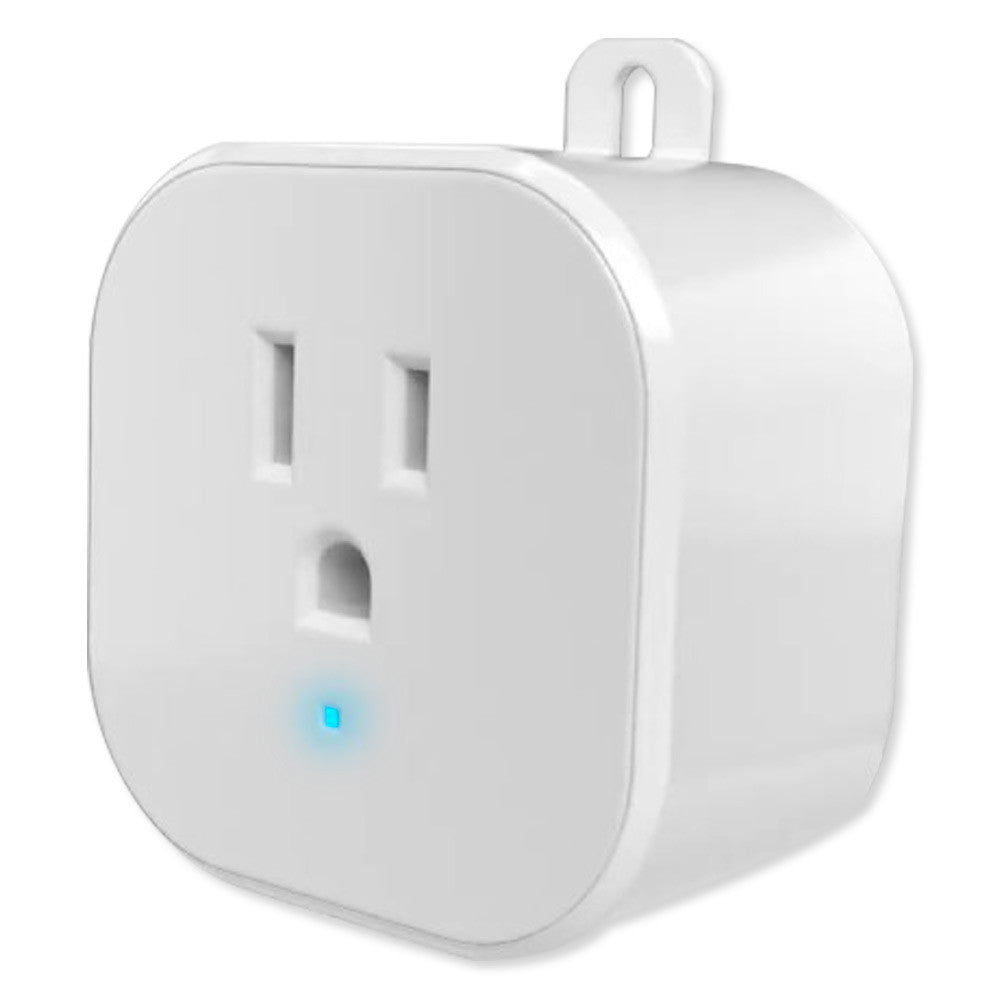 Introducing the Vera Ezlo PlugHub 2: Elevate Your Smart Home Experience
Transform your ordinary space into a cutting-edge smart hub with the Vera Ezlo PlugHub 2. This compact marvel redefines convenience, combining the roles of a smart hub, a smart outlet, and an energy monitor, all in one sleek device. Here's why the Ezlo PlugHub 2 is the ultimate game-changer for your connected home:
All-in-One Smart Solution: Experience the power of an entire smart home ecosystem packed into one device. The Ezlo PlugHub 2 seamlessly integrates as a smart hub, a smart outlet, and an energy usage sensor, giving you unparalleled control and insight.
Expand Your Smart Home Horizons: Not just a hub, the PlugHub 2 serves as a secondary smart home hub/controller, broadening your home's capabilities and enhancing compatibility with various devices.
Craft Personalized Experiences: Dive into a world of personalized automation. Create and schedule scenes involving up to 30 Z-Wave devices. Illuminate your space, adjust the temperature, or control appliances remotely—your home, your rules.
Effortless Simultaneous Control: Say hello to EzloCast. This innovative feature enables instant simultaneous control over groups of devices, streamlining your smart home operations. Efficiency meets simplicity.
Stay Informed, Stay in Control: Receive real-time alerts for triggered sensors, remotely adjust your home's temperature, or schedule devices to suit your routines. With the VeraMobile app, available for both iOS and Android, you're always in the loop, no matter where you are.
Voice Control Made Simple: Harness the power of voice commands with ease. The Ezlo VOI platform unifies control across various voice assistants including Amazon Alexa, Google Assistant, and Apple Siri. Your home, your voice.
Seamless Setup, No Hassle: The PlugHub 2 is designed for simplicity. The VeraMobile app guides you effortlessly through setup, daily control, and device integration. Plus, there are no monthly fees—just straightforward, hassle-free home automation.
Advanced Automation at Your Fingertips: Tailor your smart home experience with custom automation scenes. Trigger devices based on time, sunrise/sunset, or specific events. Receive push notifications and manage access with individual PINs for household members.
Efficient Group Device Control: Experience the power of EzloCast™, utilizing Z-Wave multicast capability for near-simultaneous control of multiple devices. Manage your smart home efficiently, one command for all.
Extended Range, Enhanced Connectivity: With Z-Wave Long Range (Z-Wave LR) support, the PlugHub 2 ensures seamless connectivity, even for devices located far from the hub. Stay connected, stay smart.
Ezlo VOI for Harmony: Unify your voice assistants effortlessly through the VeraMobile app. Ezlo VOI resolves compatibility issues, ensuring all your virtual assistants work together seamlessly.
Easy Installation, Immediate Enjoyment: Setting up is a breeze. Connect to your router via Wi-Fi or Ethernet, plug it into a power outlet using the provided supply, and you're ready to elevate your smart home experience.
Ezlo's Commitment: Ezlo is dedicated to simplifying your daily life with innovative smart devices. By fostering compatibility and connectivity with technologies from various manufacturers like FortrezZ and Vera Control, Ezlo makes home automation accessible and user-friendly. Elevate your home, elevate your life with the Vera Ezlo PlugHub 2.

Quick and Easy Shipping 
All orders over $100 in the 48 Continental United States receive FREE Ground Shipping.
Orders checked out with Standard Shipping typically take between 1-2 business days to be processed and shipped. Expedited orders placed before 2:00 p.m. PST will be shipped the same day. Weekends and holidays are excluded from processing and shipping times, so please account for non-business days when choosing your shipping method. You will receive an email with tracking information when your order has been shipped. Z-Wave Outlet will contact you with a follow-up email if the merchandise you have selected is not currently in stock or if we need additional identification provided for credit verification.
Our primary shipping service is USPS and UPS. We offer expedited services such as UPS 2nd Day Mail at check out. For Next Day delivery please call to place your order. 
Weekends
Please remember that delivery time does not include weekends or holidays.
Standard Shipping
Standard orders are processed once credit card authorization and address verification have been obtained. Orders shipped via standard delivery typically arrive in three (3) to ten (10) business days (Monday through Friday, not including holidays) for the Continental United States. All orders are shipped within 1-2 business days.
UPS 2nd Day Mail
All Second Day Air orders confirmed before 2:00 p.m. PST will be processed the same day pending credit card authorization and verification. Credit card authorization can take 24 hours for approval. Second Day Air orders confirmed after 2:00 p.m. PST will be processed the following business day. Second Day Air orders placed on Friday after 2:00 p.m. PST will be processed on Monday (excluding holidays). 
Canada and Mexico
Normal delivery times 5-9 days 
Orders will need to be paid by PayPal or Wire Transfer 
Shipping cost includes insurance
Shipping to other countries is Available
Please contact us by email: support@zwaveoutlet.com or by phone 619-632-5254 for custom shipping quote. 
Shop from home with the comfort of knowing that your order is backed by a 100% Money Back Guarantee.

We stand behind the products and services we provide. If you are not satisfied with your purchase within the first 30 days you can return or exchange new products for a full refund. 
If the item has a manufacture defect in material or workmanship, we can help you process your Manufacture Warranty Claim. Please contact support@zwaveoutlet.com to trouble shoot your ZWave Outlet Purchase.   
Items purchased from outside of ZWaveOutlet.com will need to be processed through their appropriate sales channel (IE: Amazon.com, Ebay.com, NewEgg.com etc)  ZWaveOutlet's Guarantee doesn't cover shipping costs incurred during exchanges and for full refund items need to be in new condition. 
We're so confident we can save you money that we now guarantee it! If you find a lower advertised price from any authorized U.S. dealer on an new, in-stock product, e-mail us and we'll match any verifiable price. You can shop with confidence at ZWaveOutlet knowing you'll receive the LOWEST PRICE out there, GUARANTEED! *Prices matches need to be completed before placing order.