Ecolink Z-Wave Plus Smart Thermostat, Gen5
EcoLink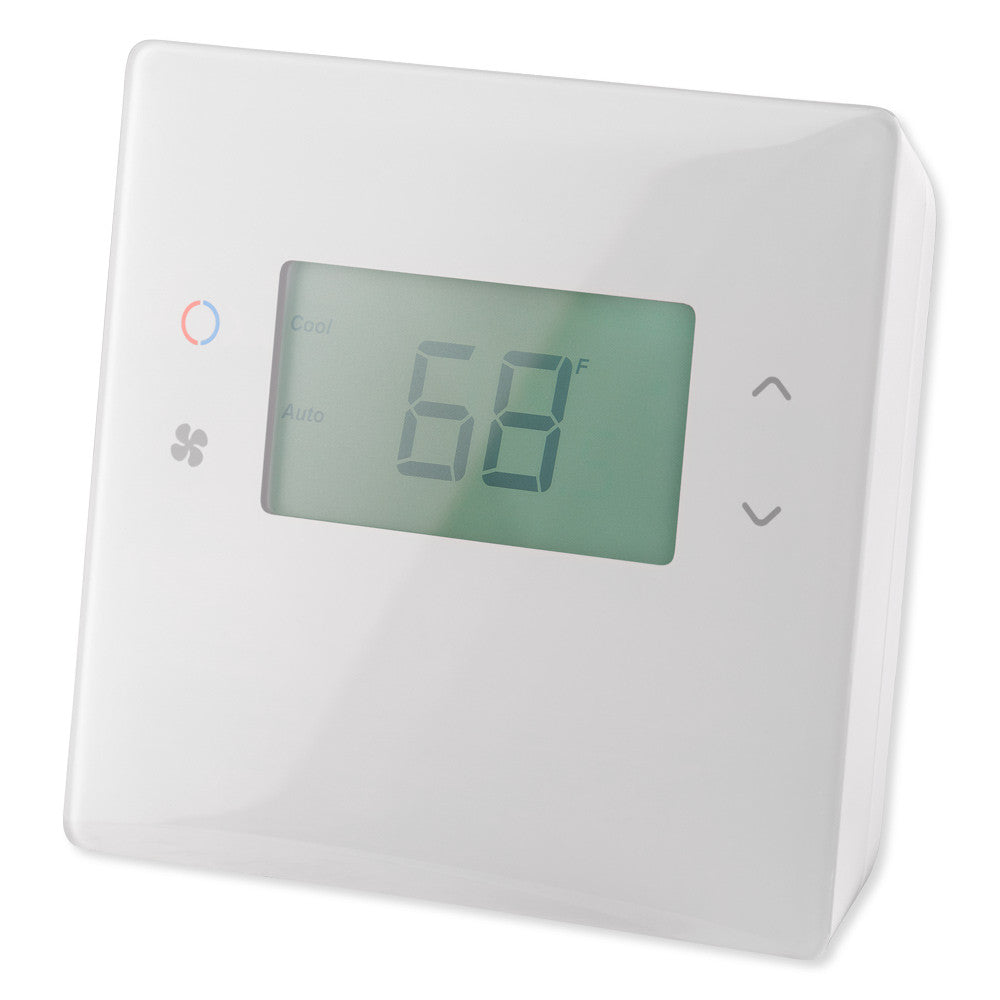 Transform Your Home with Ecolink Z-Wave Plus Smart Thermostat, Gen5
Transform your conventional thermostat into a smart, easily controlled device with the Ecolink Z-Wave Plus Smart Thermostat, Gen5. This state-of-the-art Z-Wave Plus thermostat not only brings the convenience of remote control to your fingertips but also incorporates energy-saving features, making it a perfect addition to a diverse range of HVAC and heat pump systems operating on 12VAC and 24VAC.
Key Features:
Versatile Compatibility: This Z-Wave thermostat is meticulously designed to cater to both standard gas/electric HVAC systems and Heat Pump HVAC systems. It seamlessly integrates into various setups, ensuring optimum performance.
Intuitive Interface: Experience effortless control with the backlit 128-segment black and white LCD display, complete with a 7-character Message Bar. The intuitive touch panel controls offer a user-friendly interface, enhancing your interaction with the thermostat.
Comprehensive Control: Enjoy precise management with fan control for both gas and electric heat systems. The inclusion of a Heat Pump Changeover valve (reversing) facilitates seamless heating and cooling (O or B output), adapting to your specific climate needs.
Emergency Heat Mode: For Heat Pump systems, the Emergency Heat mode can be directly selected from the thermostat, providing peace of mind and control during extreme weather conditions.
Customizable Settings: Tailor your thermostat's operation with adjustable compressor short cycle protection delay of 5 minutes. This ensures efficient performance while prolonging the life of your HVAC system.
Power Options: Choose your power source as per your convenience. The thermostat can be powered through either hardwired connection or battery supply, offering flexibility in installation. (Note: C wire not required for battery operation.)
Broad Compatibility: Compatible with a variety of control panels, including popular models like 2GIG EDGE, Honeywell Lynx Touch, Interlogix Simon XT, Qolsys IQ, and Samsung SmartThings Hub. This ensures seamless integration into your existing smart home ecosystem.
Z-Wave Plus Certification:
The Z-Wave Plus certification ensures that this thermostat utilizes the advanced "Next Gen" Z-Wave hardware platform (500 Series or Gen5 Z-Wave). This certification guarantees easier setup, quicker installation, improved battery life, extended wireless range, and enhanced noise immunity, providing you with a reliable and efficient smart home solution.
Installation Notes:
24V Operation: For 24V operation, both 24VAC (R) and 24VAC common (C) wires are required from the HVAC system.
Single Transformer Systems: In single transformer systems, the R wire can be connected to either the RC or RH terminal, connected by a factory jumper.
Separate Heating and Cooling Transformers: For systems with separate heating and cooling transformers, connect Heating R to RH and Cooling R to RC while removing the factory-installed RC/RH jumper.
Ecolink's Vision:
Ecolink products are born from insights derived from user needs and a dedication to enhancement. Beyond product development, Ecolink focuses on providing solutions previously deemed impossible. With a robust foundation in the electronics industry and extensive design/development experience, Ecolink is committed to creating products that adhere to the highest standards of performance and quality. Experience the future of smart home climate control with Ecolink Z-Wave Plus Smart Thermostat, Gen5.

Quick and Easy Shipping 
All orders over $100 in the 48 Continental United States receive FREE Ground Shipping.
Orders checked out with Standard Shipping typically take between 1-2 business days to be processed and shipped. Expedited orders placed before 2:00 p.m. PST will be shipped the same day. Weekends and holidays are excluded from processing and shipping times, so please account for non-business days when choosing your shipping method. You will receive an email with tracking information when your order has been shipped. Z-Wave Outlet will contact you with a follow-up email if the merchandise you have selected is not currently in stock or if we need additional identification provided for credit verification.
Our primary shipping service is USPS and UPS. We offer expedited services such as UPS 2nd Day Mail at check out. For Next Day delivery please call to place your order. 
Weekends
Please remember that delivery time does not include weekends or holidays.
Standard Shipping
Standard orders are processed once credit card authorization and address verification have been obtained. Orders shipped via standard delivery typically arrive in three (3) to ten (10) business days (Monday through Friday, not including holidays) for the Continental United States. All orders are shipped within 1-2 business days.
UPS 2nd Day Mail
All Second Day Air orders confirmed before 2:00 p.m. PST will be processed the same day pending credit card authorization and verification. Credit card authorization can take 24 hours for approval. Second Day Air orders confirmed after 2:00 p.m. PST will be processed the following business day. Second Day Air orders placed on Friday after 2:00 p.m. PST will be processed on Monday (excluding holidays). 
Canada and Mexico
Normal delivery times 5-9 days 
Orders will need to be paid by PayPal or Wire Transfer 
Shipping cost includes insurance
Shipping to other countries is Available
Please contact us by email: support@zwaveoutlet.com or by phone 619-632-5254 for custom shipping quote. 
Shop from home with the comfort of knowing that your order is backed by a 100% Money Back Guarantee.

We stand behind the products and services we provide. If you are not satisfied with your purchase within the first 30 days you can return or exchange new products for a full refund. 
If the item has a manufacture defect in material or workmanship, we can help you process your Manufacture Warranty Claim. Please contact support@zwaveoutlet.com to trouble shoot your ZWave Outlet Purchase.   
Items purchased from outside of ZWaveOutlet.com will need to be processed through their appropriate sales channel (IE: Amazon.com, Ebay.com, NewEgg.com etc)  ZWaveOutlet's Guarantee doesn't cover shipping costs incurred during exchanges and for full refund items need to be in new condition. 
We're so confident we can save you money that we now guarantee it! If you find a lower advertised price from any authorized U.S. dealer on an new, in-stock product, e-mail us and we'll match any verifiable price. You can shop with confidence at ZWaveOutlet knowing you'll receive the LOWEST PRICE out there, GUARANTEED! *Prices matches need to be completed before placing order.