Ecolink Z-Wave Plus Wireless Motorized Dual Toggle Light Switch
Ecolink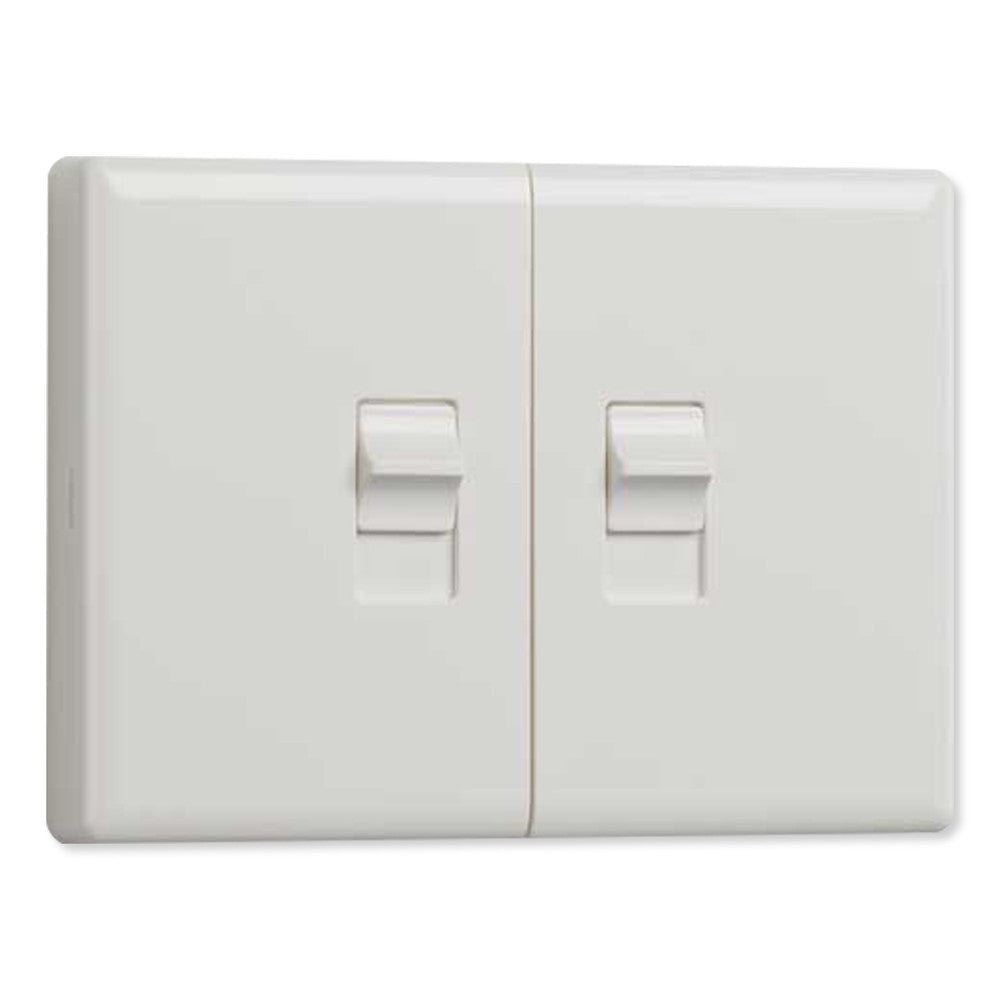 Introducing the Ecolink Z-Wave Plus Motorized On/Off Light Switch, Dual Toggle, Gen5 – Elevate Your Indoor Lighting Control!
Revamp your indoor lighting effortlessly with the Ecolink Z-Wave Plus Motorized On/Off Light Switch, Dual Toggle, Gen5. This cutting-edge battery-powered attachment switch is your ticket to seamless Z-Wave control without the hassle of replacing your existing switches. Specifically designed for double gang in-wall light switches, this innovative switch overlays your current setup, functioning as a sleek cover while integrating Z-Wave remote control into your home lighting.
Key Advantages:
Effortless Upgrade: Transform your indoor lighting into a smart, Z-Wave-enabled system without rewiring or replacing your switches. The Ecolink Toggle Light Switch elegantly overlays your double gang switches, offering instant Z-Wave connectivity for 110V lighting fixtures.
Seamless Integration: Maintain the manual operation of your base switches while seamlessly integrating Z-Wave remote control. Say goodbye to complex installations – this switch effortlessly connects to your Z-Wave network, enabling convenient remote On/Off control.
Long-lasting Performance: Experience uninterrupted Z-Wave automation benefits with the Ecolink Toggle Light Switch's impressive battery life of up to 1 year. Enjoy hassle-free installation and prolonged, hassle-free automation.
Versatile Compatibility: Compatible with a range of Z-Wave hubs, including SmartThings, Vera Ezlo hubs, HomeSeer, and other Z-Wave compatible hubs, this switch offers unparalleled flexibility in your home automation setup.
Easy Installation Steps:
Mounting: Remove the existing double-gang switch's wallplate and effortlessly mount the base using the included wallplate screws.
Battery Setup: Insert the provided AA batteries, ensuring a reliable power source for your switch.
Pairing: Effortlessly pair the switch with your Z-Wave hub for instant connectivity.
Finishing Touch: Complete the installation by snapping on the cover, and voilà – your Z-Wave-controlled lighting is ready to shine!
What's Inside:
The package includes the Ecolink Toggle Light Switch, all necessary installation hardware, (4) AA Batteries for prolonged usage, and a comprehensive Manual for easy setup and usage guidance.
Ecolink's Vision:
Ecolink products embody innovation, functionality, and an unwavering commitment to enhancing user experiences. With a rich background in the electronics industry, Ecolink consistently delivers cutting-edge, quality-driven products. By fusing design expertise and user insights, Ecolink empowers users in the realms of security and home automation.
Elevate your home lighting experience with the Ecolink Z-Wave Plus Motorized On/Off Light Switch, Dual Toggle, Gen5. Embrace the future of indoor lighting control today!

Quick and Easy Shipping 
All orders over $100 in the 48 Continental United States receive FREE Ground Shipping.
Orders checked out with Standard Shipping typically take between 1-2 business days to be processed and shipped. Expedited orders placed before 2:00 p.m. PST will be shipped the same day. Weekends and holidays are excluded from processing and shipping times, so please account for non-business days when choosing your shipping method. You will receive an email with tracking information when your order has been shipped. Z-Wave Outlet will contact you with a follow-up email if the merchandise you have selected is not currently in stock or if we need additional identification provided for credit verification.
Our primary shipping service is USPS and UPS. We offer expedited services such as UPS 2nd Day Mail at check out. For Next Day delivery please call to place your order. 
Weekends
Please remember that delivery time does not include weekends or holidays.
Standard Shipping
Standard orders are processed once credit card authorization and address verification have been obtained. Orders shipped via standard delivery typically arrive in three (3) to ten (10) business days (Monday through Friday, not including holidays) for the Continental United States. All orders are shipped within 1-2 business days.
UPS 2nd Day Mail
All Second Day Air orders confirmed before 2:00 p.m. PST will be processed the same day pending credit card authorization and verification. Credit card authorization can take 24 hours for approval. Second Day Air orders confirmed after 2:00 p.m. PST will be processed the following business day. Second Day Air orders placed on Friday after 2:00 p.m. PST will be processed on Monday (excluding holidays). 
Canada and Mexico
Normal delivery times 5-9 days 
Orders will need to be paid by PayPal or Wire Transfer 
Shipping cost includes insurance
Shipping to other countries is Available
Please contact us by email: support@zwaveoutlet.com or by phone 619-632-5254 for custom shipping quote. 
Shop from home with the comfort of knowing that your order is backed by a 100% Money Back Guarantee.

We stand behind the products and services we provide. If you are not satisfied with your purchase within the first 30 days you can return or exchange new products for a full refund. 
If the item has a manufacture defect in material or workmanship, we can help you process your Manufacture Warranty Claim. Please contact support@zwaveoutlet.com to trouble shoot your ZWave Outlet Purchase.   
Items purchased from outside of ZWaveOutlet.com will need to be processed through their appropriate sales channel (IE: Amazon.com, Ebay.com, NewEgg.com etc)  ZWaveOutlet's Guarantee doesn't cover shipping costs incurred during exchanges and for full refund items need to be in new condition. 
We're so confident we can save you money that we now guarantee it! If you find a lower advertised price from any authorized U.S. dealer on an new, in-stock product, e-mail us and we'll match any verifiable price. You can shop with confidence at ZWaveOutlet knowing you'll receive the LOWEST PRICE out there, GUARANTEED! *Prices matches need to be completed before placing order.