Ecolink Z-Wave Plus Door/Window Sensor, Gen5
EcoLink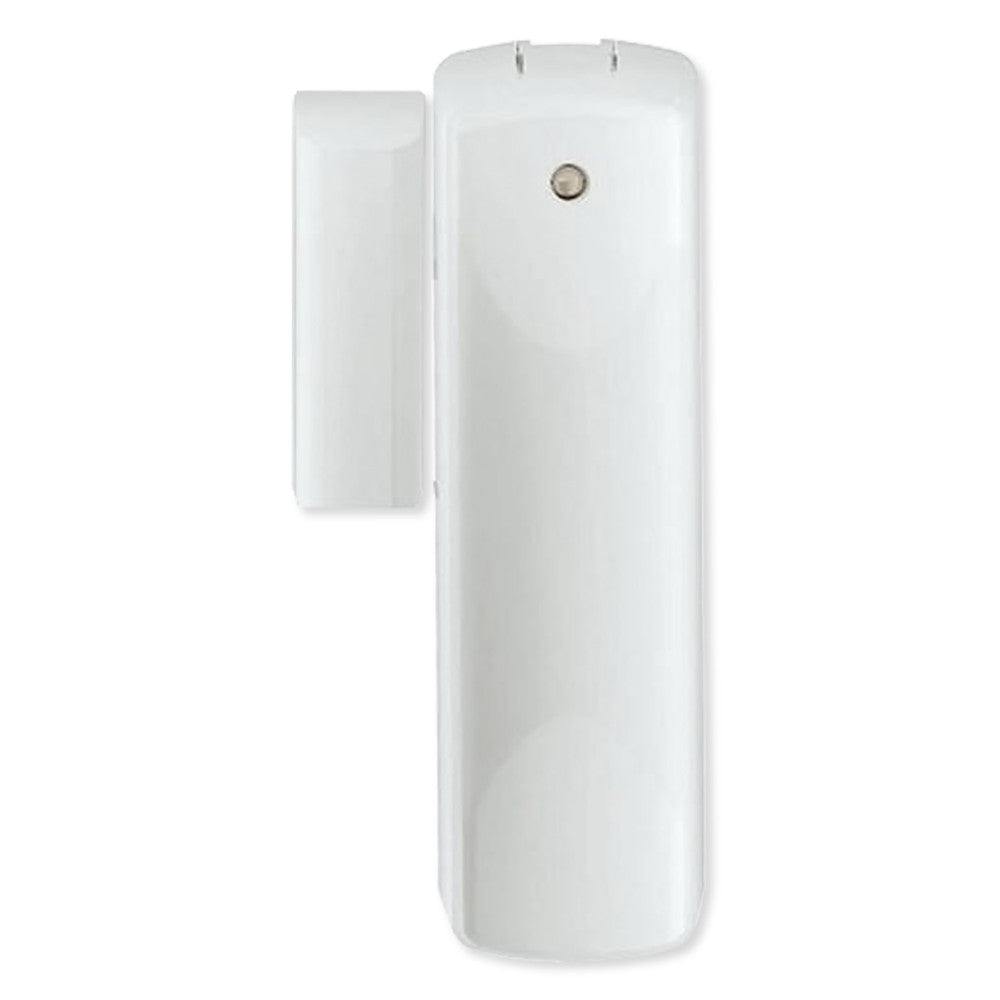 Introducing the Ecolink Z-Wave Plus Door/Window Sensor, Gen5: Elevate Your Home Security
Upgrade your home security with the Ecolink Z-Wave Plus Door/Window Sensor, Gen5, the smart choice for safeguarding your home. Stay informed about the status of your doors and windows like never before. This innovative sensor, equipped with cutting-edge Z-Wave Plus technology, ensures seamless integration into your smart home system. Here's why this sensor is the ideal addition to your home security setup:
Enhanced Security Features:
Designed to detect the open or closed status of doors, double-hung windows, or drawers, this sensor keeps you in the loop at all times. Receive instant notifications whenever a door or window is opened or closed, enhancing your home's security measures effectively.
Hassle-Free Installation:
Say goodbye to complicated installations. Our sensor operates on battery power, eliminating the need for wiring and ensuring a hassle-free setup process. With no cumbersome wires to deal with, you can install it effortlessly wherever you need it the most.
Tamper-Proof Design:
Worried about tampering or sensor removal? Rest easy. This sensor alerts you promptly in case of tampering or if the sensor cover is removed, providing an added layer of protection against intruders.
Extended Wireless Range:
Experience reliable connectivity with our sensor that offers an impressive operating range of up to 100 feet in a line-of-sight configuration. No more worries about signal loss – enjoy seamless communication with your smart home system.
Customizable Compatibility:
We understand that every home is unique. That's why our package includes an additional set of plastics in Brown, ensuring compatibility with darker doors and windows. Now, your security solutions can seamlessly blend with your home decor.
Z-Wave Plus Certification:
Rest assured, our sensor is Z-Wave Plus certified. This means you get a product that's backed by advanced features such as quick installation, longer battery life, improved wireless range, faster operation, and enhanced noise immunity, providing you with a top-notch user experience.
Easy Integration and Alignment:
Integrating our sensor into your Z-Wave network is a breeze. Installation involves attaching the sensor to the fixed jamb of the door or window and placing the magnet on the corresponding door or window. Alignment is made simple thanks to a distinctive mark on the sensor. When the sensor and magnet are separated or brought together, indicating an open or closed status, the sensor will promptly send an alert, keeping you informed and secure.
Ecolink's Commitment:
At Ecolink, we are dedicated to providing solutions that address real user needs. Our products are crafted with the highest performance and quality standards in mind. With our extensive experience in the electronics industry, we push boundaries to manufacture innovative products that enable solutions previously thought unattainable.
Elevate your home security with the Ecolink Z-Wave Plus Door/Window Sensor, Gen5. Experience peace of mind and stay one step ahead of potential threats. Upgrade to smart security today.

Quick and Easy Shipping 
All orders over $100 in the 48 Continental United States receive FREE Ground Shipping.
Orders checked out with Standard Shipping typically take between 1-2 business days to be processed and shipped. Expedited orders placed before 2:00 p.m. PST will be shipped the same day. Weekends and holidays are excluded from processing and shipping times, so please account for non-business days when choosing your shipping method. You will receive an email with tracking information when your order has been shipped. Z-Wave Outlet will contact you with a follow-up email if the merchandise you have selected is not currently in stock or if we need additional identification provided for credit verification.
Our primary shipping service is USPS and UPS. We offer expedited services such as UPS 2nd Day Mail at check out. For Next Day delivery please call to place your order. 
Weekends
Please remember that delivery time does not include weekends or holidays.
Standard Shipping
Standard orders are processed once credit card authorization and address verification have been obtained. Orders shipped via standard delivery typically arrive in three (3) to ten (10) business days (Monday through Friday, not including holidays) for the Continental United States. All orders are shipped within 1-2 business days.
UPS 2nd Day Mail
All Second Day Air orders confirmed before 2:00 p.m. PST will be processed the same day pending credit card authorization and verification. Credit card authorization can take 24 hours for approval. Second Day Air orders confirmed after 2:00 p.m. PST will be processed the following business day. Second Day Air orders placed on Friday after 2:00 p.m. PST will be processed on Monday (excluding holidays). 
Canada and Mexico
Normal delivery times 5-9 days 
Orders will need to be paid by PayPal or Wire Transfer 
Shipping cost includes insurance
Shipping to other countries is Available
Please contact us by email: support@zwaveoutlet.com or by phone 619-632-5254 for custom shipping quote. 
Shop from home with the comfort of knowing that your order is backed by a 100% Money Back Guarantee.

We stand behind the products and services we provide. If you are not satisfied with your purchase within the first 30 days you can return or exchange new products for a full refund. 
If the item has a manufacture defect in material or workmanship, we can help you process your Manufacture Warranty Claim. Please contact support@zwaveoutlet.com to trouble shoot your ZWave Outlet Purchase.   
Items purchased from outside of ZWaveOutlet.com will need to be processed through their appropriate sales channel (IE: Amazon.com, Ebay.com, NewEgg.com etc)  ZWaveOutlet's Guarantee doesn't cover shipping costs incurred during exchanges and for full refund items need to be in new condition. 
We're so confident we can save you money that we now guarantee it! If you find a lower advertised price from any authorized U.S. dealer on an new, in-stock product, e-mail us and we'll match any verifiable price. You can shop with confidence at ZWaveOutlet knowing you'll receive the LOWEST PRICE out there, GUARANTEED! *Prices matches need to be completed before placing order.