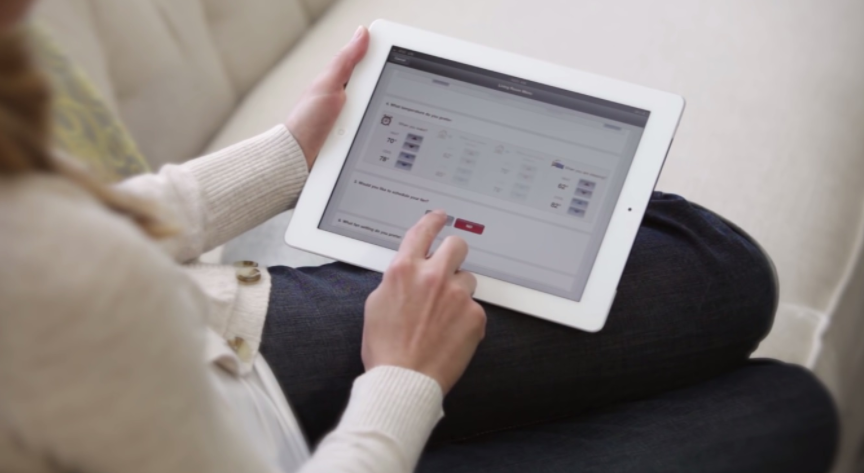 Smart thermostats play a tremendous role in energy efficiency, and can also save you a significant amount of money if you do it right. With a standard thermostat, it only serves the basic function of turning the heating and cooling on or off manually all controlled by a simple switch. Should we not take into account the external factors that affect thermostat functions such as anticipating the differences in weather conditions? We also see no point in spending those hard earned dollars on cooling your home while no one is even there. Here are some of the top-selling Z-Wave thermostats that we love:
This all-in-one connected thermostat includes a particularly creative technology that enables custom schedules, location based automation, and alerts that respond to inputs based on the various other devices being used around the house. This is a great smart home solution to provide homeowners with accurate temperature adjustments for people to experience the complete home automation experience.
To truly optimize all energy usage you want to look into this Z-Wave integrated thermostat. Remotely adjust heating/cooling away from home through your choice of tablet or smartphone and decrease your energy activity by 10-15%! You can also adjust lighting through the remote system for a smart use of all energy around your home!
One of the biggest mistakes you see is people who are not aware of their energy expenses and basically just wing it. Let's face it though, the more you know the more you save. With Nest 3nd Learning Thermostat, you are able to tailor your air conditioning needs with a personalized schedule. Keeping track of how energy is being spent for a period of time can make a huge difference to see how you can constantly improve. The leaf on this thermostat will let you know if you are spending your energy wisely, so you are always on track. Additionally, it is neat to make use of the airwave feature which detects when humidity isn't as high and in turn lowers the cooling in your home.
This Z-Wave Thermostat has gotten awesome reviews by customers expressing how simple it is to install, the Z-Wave capabilities and the green glow it gives off making it easy to read! It also has a built-in messaging system that informs people about their HVAC status and event can be installed without requiring a C-wire. We love this thermostat for being dependable in its temperature control and reliable track record!